24/7 coverage is affecting how baseball is being played
At the start of this season, no Rays fan was more ecstatic and anxious to see Matt Moore finally start his first full season than I was. After the 5 year, 14 million dollar deal he signed with the Rays prior to the season's beginning, many experts had the Rays' rotation in the top 5 in all of baseball. How, though, can we really get a legitimate reading off of a 22-year-old who only pitched a total of 9.1 [regular season] innings? The truth is, we can't; despite all these so-called "experts" fabricated, often made up reasons as to why "this guy is going to be a stud", no one has a crystal ball.
When Daisuke Matsuzaka started his first spring training game as a member of the Boston Red Sox in March of 2007, the hype surrounding him and his famed "Gyroball" (a fastball with the "red dot" image that a Slider usually projects) was unyielding. He was supposed to be the first Japanese-born pitcher who would actually live up to the hype, as most Japanese imports who were pitchers had fizzled out immediately. As of this point, "Dice K" has had nothing short of a turbulent career, which consists of great starts, and God-awful starts as well; he hasn't seemed to stay healthy enough to be able to establish some level of consistency.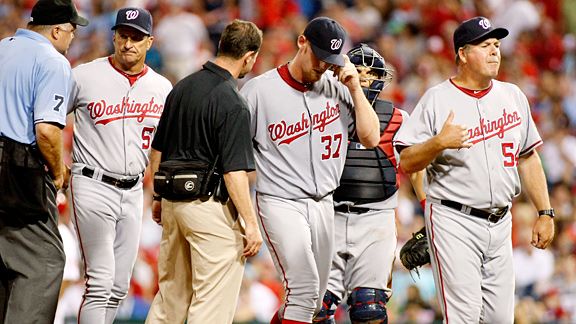 Fast forward a few years, and we get to San Diego State prodigy pitcher Stephen Strasburg. Said to be the right-handed equivalent of Randy Johnson and the spawn of Roger Clemens (in reference to his velocity), Strasburg had become the most hyped player since Ken Griffey Junior; problem was, he hadn't even been drafted yet. Strasburg would strikeout 14 batters in his Major League debut, and was piling up the K's until he tore a ligament in his elbow, thus ending his season. People began labeling him as a bust, a guy with an obscene amount of talent but too raw to be able to learn how to harness it. Low and behold, Strasburg is having a stellar 2012 season thus far: 5-1 record, with a paltry 2.64 ERA and a modest 70 strikeouts.
Present day, we have players like Matt Moore and Nationals' phenom Bryce Harper, who isn't really a crowd favorite around the league. Harper is arguably the most hyped prospect in the history of the game, with ESPN's E:60 doing an eleven minute video documentary on how he's "The Chosen One", with prodigious power and the epitome of a five-tool player. So far in 2012, he has only 4 home runs in the 28 games he's played in, and for a guy who's supposed to be a contact hitter as well, only has a .286 average with a league-average .372 on-base percentage. He is an arrogant, almost narcissistic player at 19 years of age, but has to be given the ridiculous amount of hype that surrounded him even before he took his first at-bat of the 2010 Spring Training.
Matt Moore, on the other hand, didn't have anywhere near the amount of hype Harper had, but his stats in the minors did the talking for him. When the Rays decided to call him up in the last game of the season, he didn't disappoint. His start against the Texas Rangers was nothing short of spectacular either: 7 IP, 2 H, 2 BB, 6 K, and he didn't give up a single run against the daunted Ranger's offense. After that, baseball experts nationwide began dubbing Moore as "the next great pitching prospect" apart from Strasburg.
His start to the 2012 season has been a major letdown, posting a 1-5 record with an ERA near 5 (4.76), while giving up 9 long balls and 55 hits. All things considered, he has the repertoire [of pitches] and the talent is there as well. So why isn't he performing up to the level that everyone who knows baseball has come to expect of him?
Say it with me: too much hype and media coverage. Therein lies the problem with all these great prospects, who want nothing more than to do the very best they can to contribute to the team's overall success. For Strasburg and Moore, people expect them to strikeout at least 10 batters every outing, otherwise it's a failure (ignorant baseball fans). If Harper doesn't hit a 440+ foot bomb once every game, he's a flameout, and therefore should be treated as one. Sports media has put these young players on pedestals that are higher than the Burj Khalifa, even before they have played a game, let alone an entire/full season.
With all this pressure to be the next surefire HoF'er at your given position, wouldn't you tremble in your cleats every time you took the mound or stepped into the box? If you try to say "Yes" I will stop you before you get the chance to complete it, because none of us have any idea what it's like to have a franchise's hopes and dreams riding on our shoulders. We cannot even begin to put ourselves in their shoes, and we would never want to. Money. Fame. Sure, these are great, but they're nothing more than things that satisfy our own lust for "being someone that matters." I would never in my wildest dreams want to be a Bryce Harper, a Stephen Strasburg, or a Matt Moore, simply because of the impossible tasks that are expected of me from Day 1.
Greats like Mickey Mantle, Willie Mays, Rogers Hornsby, Jimmie Foxx, didn't have all these T.V. cameras shoved in their face the moment they got to The Show, and they didn't need to; their play on the field did all the talking for them. Today's sports world has become nothing but a cesspool, where players are critiqued for something as simple as eating a hotdog while on the bench (a la Mark Sanchez...let the man eat!), or having an alter ego named "Tony Plush."
My advice to the sports media: let these kids do what they're paid to do: play the game. It's not their job to live up to the expectations you created for them, when they themselves don't even expect to hit a home run every at-bat, or strikeout 27 of 27 batters faced every time they take the mound; it's an asinine statement if I ever heard one. The game of baseball is played on the field, not in our heads: let's keep it that way.